Bold New Looks Everywhere You Look
Kandee Johnson, a YouTube celeb and talented makeup artist, took the bold 2015 Camry on a pop-up makeover adventure. She found unsuspecting women and surprised them with makeovers that were as beautiful as the Camry is bold.
One Bold Decision Leads to Another
Author of It's Arkeedah and Chick Auto Tips, Arkeedah loves blogging about fashion, pop culture and cars. When she took the bold 2015 Camry out for for a spin, she decided that she'd brave a few other bold activities – indoor rock climbing and aerial arts.
Camry Bold, Auburn Bold
Y'all know I'm a sucker for an old classic made new again! Given the choice, I'll take a remade classic over a new design anyway. The other day, Toyota came calling to ask if I'd participate in a campaign featuring their 2015 Camry model, and since it was all about putting a bold, new twist on a classic, I was in like Flynn. Read more...
A Bold New Beat
Fresh Big Mouf is a "Beat Scout" pioneer, turning everything from road bumps to mailbox taps into one-of-a-kind beats. Once he got behind the wheel of the bold 2015 Camry, he made it his instrument of choice in creating his boldest beat yet.
A Bold New Adventure
A lover of food, the outdoors and horses, Cynthia writes the blog Sensibly Sharp, which chronicles her daily fashion choices. Along with getting behind the wheel of the bold 2015 Camry, Cynthia got into the cockpit of a helicopter high over the north Georgia mountains. Bold move, Cynthia.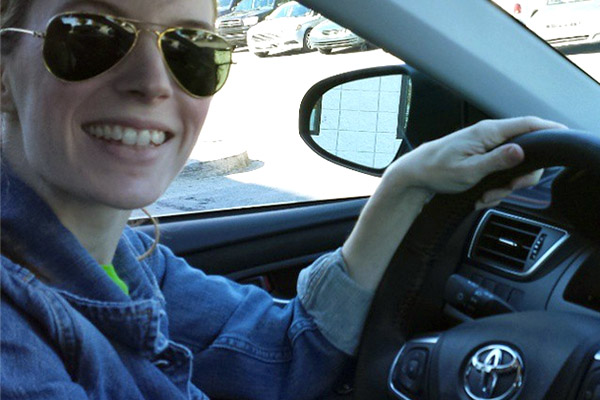 Bold Rock Climbing in Chimney Rock, NC
When Toyota gave me the keys to a brand new 2015 Camry, I plugged Chimney Rock, NC into the GPS and drove north to the mountains. My big goal for my thirties is to push myself to try new things and take more risks and so I thought this was the perfect opportunity to challenge myself to face a fear. I knew that it would be an amazing experience and I did not want to let such a great opportunity pass me by just because I was too afraid to try. Read more...
Paragliding at Bold New Heights
YouTuber Jon Watson has gained a lot of attention for his extreme adventure videos, but here's the thing: he's usually behind the camera rather than in front of it. Inspired by the bold 2015 Camry, Jon took on a new adventure and got a totally new perspective on life when he made the bold decision to go paragliding for the first time ever.